Driver Profile: Jody "Gater Boy" London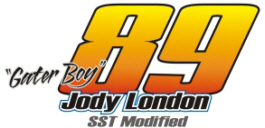 Jody "Gater Boy" London

Profile excerpted from an article By Dan Hall with edits by Tom Fecteau
Jody London was born into racing. His dad, Dave, was a Street Stock driver who raced over three decades at several asphalt speedways and was a past Street Stock Champion at Wyoming County International Speedway. Most of Dave's racing efforts were at Spencer Speedway and Vickie Lee, Jody's mom, did promotional work for the speedway. Together they managed Spencer's banquet for many years.
Jody's race career began in 2000 driving an "Outlaw" go kart. In his rookie season, Jody won the B-Main championship. In 2001, Jody won his first feature race and continued racing the kart through 2003. Jody's moniker of "Gater Boy" came from his weekend job of selling the Gater Racing News at Spencer Speedway and later at other NY asphalt speedways. A friend of the family, Donna Fecteau, made him a "Gater News" T-shirt to help grab attention. It became natural for friends and fans to holler out "Hey Gater Boy" and the moniker stuck.
At the end of 2004, Jody and his dad bought a Modified that they converted to a SST Modified for Spencer Speedway. With the car renumbered 89 to honor his Dad and a large "Vickie Lee" sticker in remembrance of his Mom, his maiden voyage would be all Jody had hoped for. "They told me that I don't have to be the fastest, just finish the race." That main event was action packed and Jody ended up finishing fifth. Jody finished second in the 2005 Rookie of the Year battle and 10th in points.
"My main crewman is John Zimmerman, a fellow karter who races at Paradise Speedway. I've also received a variety of help from fellow racers Matt Lees, Phil Johnson, Bob Ultch, Alva English and Tom Fecteau. I want to specially thank Artie Gladfelter for giving us a motor to use for two seasons." Jody also wants to thank his sponsors: Arrow Kitchens in Webster, JABCO in Williamson, Total Performance Motorsports in Ontario, and Percy Motorsports in Williamson.
2006 was a part time effort as his Dad's health issues took away some of Jody's focus on racing. With the passing of David in December, Jody has set a goal of reproducing the color scheme from one of his Dad's favorite cars. "With the help of my friends, my Dad's friends and my sponsors, I hope to bring back the fun of racing in 2007."